Erin Series: Why I Hate the Beach Back
By Erin • September 12, 2016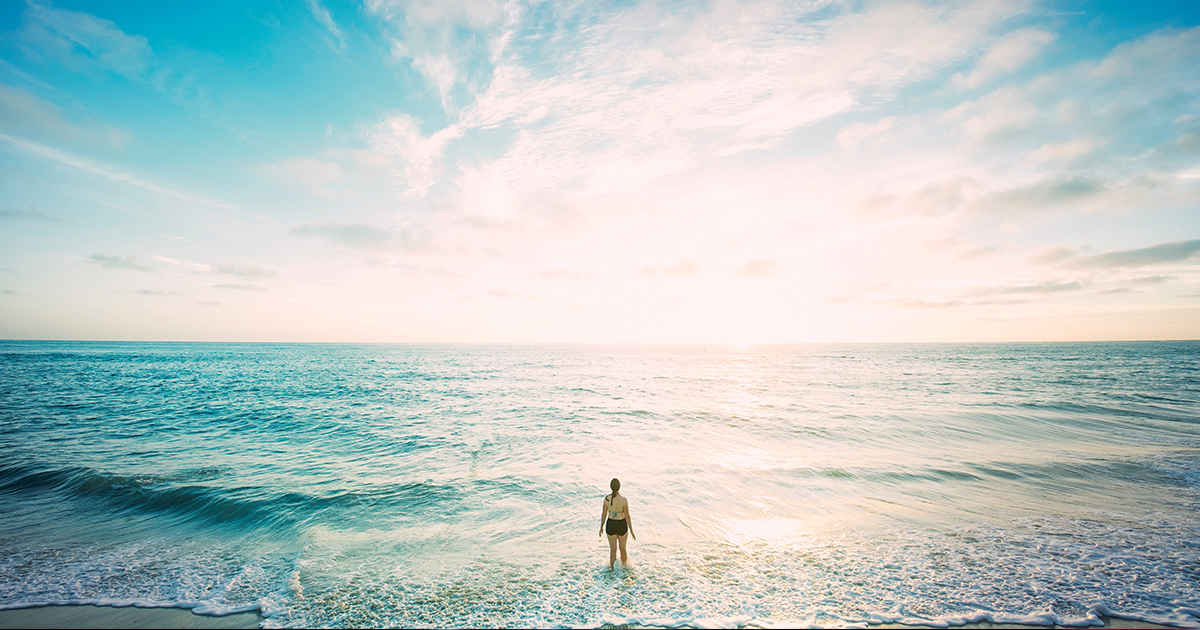 Will someone please explain the beach to me? Is everyone kind of lying at least a little bit about how fun the beach is? Is every human being expected to adore the beach, even in a tropical climate? I mean, it's so hot in the Philippines and yet, people save their hard-earned salaries just to go to the beach. Yung totoo?
I don't like the beach. There, I said it.
There were a lot of people who have invited me to go to the beach. My usual reaction is to keep quiet and hope the conversation goes away, because in my experience, saying a blunt "I don't like the beach" is just the same as saying "you know, I think the Spaniards shouldn't have let the Philippines go. We should have been forever colonized by the Spaniards. It's for the best." And the person would ask me, "How could anyone not like the beach?" or "I've never heard of someone not liking the beach!" or worse, "You'll have fun in the beach." and then I silently think to myself, "This is the reason why I don't like the idea of going to the beach."
I am puzzled when people tell me that they go to the beach to relax and reflect, and to introspect. I am an introspective person. I do not need the beach to reflect. I do my introspection in the jeepney, in the bus, or in the LRT.
Don't even get me started with people who go to the beach to show off their beach bodies courtesy of the gym+expensive protein shakes. These people manipulate their body to look appealing to a crowd of strangers. I find it superficial. They know that someday, we are all going to die, right?
I have been to beach trips with my family when I was a tiny tot. One time, I went to the ocean and drank the water. I did not know that you are not supposed to drink the water from the beach. I choked. I thought I was going to die at 8 years old! How dare the beach water be undrinkable in a world full of thirsty people?! Childhood trauma.
The last time I set foot in a beach was in 2007. I was fortunate enough to be schoolmates with an haciendera whose family had access to a private resort. It was FREE OF CHARGE.
I remember slathering on sunblock, SPF 100 (SPF 50 lang, just kidding) in preparation for my entry into a hostile environment. I hated it when my shampoo-commercial locks got tousled by a never-ending windslaps. I despised the beautiful white sand. I felt like the wind and the sand stuck to my skin and I felt really uncomfortable.
My escape route was to just read in the beach, to appease my college schoolmates at least. Do you know why there's a literary genre called "beach reads?" The beach read is a frivolous, light read. Some noted examples are Me Before You by Jojo Moyes, and Can You Keep a Secret? by Sophie Kinsella. You do not need to think much when you read this type of literary fiction. I couldn't read in the quiet private resort. After 15 painful minutes, I decided to just be myself, and I... I locked myself in the cabin and slept. The whole time that I stayed in the private resort, I only got out of the cabin to eat.
When my college schoolmates found me inside the cabin, they urged me to explore the beach I gave in a little and devoted another 15 minutes of my life walking in the pristine white sands. I wondered why I've subjected myself to such heat when I could have stayed in a nice air-conditioned cabin. Then I remembered sheepishly that I accepted my college scoolmate's invitation: I WAS HOPING TO MEET A LOT OF MESTIZO COLLEGE KIDS, who might be a friend of my college schoolmate. As luck would have it, all I met were moreno hacienderos.
Please note that back then, I was a Fil-Chi who was in awe of mestizos. I watched too many soap operas. This was in circa 2007-2008. The soap opera leading men that time were Dingdong Dantes, TJ Trinidad, and John Lloyd Cruz. I was expecting to meet the Dingdongs and the TJ's; instead, I met the John Lloyds during my time in the resort. I thought hacienderos were all mestizos. Ano ba 'yan?! Oh well, hassle.
This brings me to my previous boylaloo – the Caucasian Man-child I was convinced that I was in love with last year. He hails from California. He loves the beach, and he goes to Puerto Galera to dive. He never invited me.
As luck would have it, Chinito Guy loves the beach. He was surprised when I told him that I hate the beach and that if I was unfortunate enough to find myself in a beach resort, I will just lock myself in the hotel room and watch movies shown on cable. He asked me why. I told him that I just don't like hot places. Ayoko lang talagang mainitan.
He said, "It's weird because you love commuting. Don't you feel naiinitan when you commute?"
I came up with a feeble response like, "I like commuting because I see a lot of action and it feels like I'm a part of a TV show when I commute. It's exciting. But, I don't know, I'm just not enticed by the beach and I just don't understand why people love it so much."
Lame excuse, I know. I could not tell him the real reason behind it. How could I tell him? Just before we had that beach conversation, he asked me point-blank if I have gotten over the Caucasian man-child. I told him that I've gotten over him a long time ago. I lied, because the truth is, I've gotten over Caucasian man-child because of him, my Chinito at that point in my life.
This prompted Chinito to tell me, "Alam mo ba kung ano ang kinakatakot ko? (You know what I fear most at this point?) Na hindi ka makakasabay sa lifestyle ko. (That you won't be able to keep up with my lifestyle), he said.
I assured him that for him, I am willing to sacrifice. "Compromise nga, 'di ba?" I told him. I meant what I said.
My disdain for the beach was because the Caucasian man-child never invited me to his diving trips in Puerto Galera. He never invited me. Why? Because he didn't want to be part of my life.
Then, there's this Chinito Guy who wants me to go to out-of-town trips with him because he wanted me to fit into his life.
The irony.
So there, that's the reason why I hate the beach.