Erin Series: Confessions of a Narcissist Back
By Erin • September 25, 2016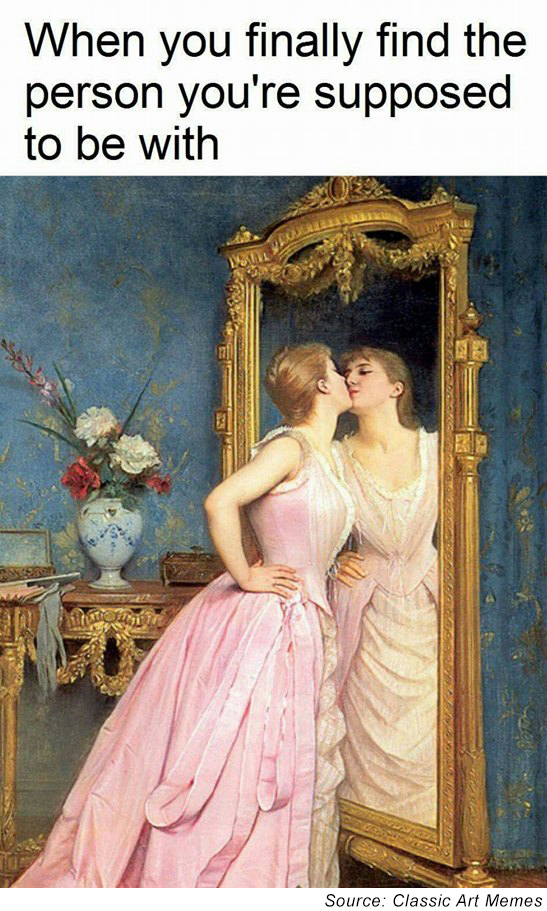 I will open this blog entry with a quote from Frank Lloyd Wright, the world-famous architect who said: "Early in life, I had to choose between honest arrogance and hypocritical humility. I chose honest arrogance and have seen no reason to change."
I confessed to Chinito Guy that I am a self-centered narcissist. I confessed it to him at the end of our whatever-"ship" and I knew there was no turning back. He will never speak to me again.
Chinito Guy was attracted to my sensitivity, and my despair… at least for a while. He stopped feeding my ego, and it was very very painful for me.
I chose myself over him, and he just had to know. When I chose myself, I felt relieved. It seemed like Chinito Guy was a vacation from loving myself.
I have a confession. I am a closet narcissist. Closet because I know that to be a narcissistic Chinese-Filipina could not be good.
Self-gratification is my game. This is the reason why I am always in high spirits.
I am self-focused and self-aware. I know my strengths and weaknesses.
It's a pipe dream of mine to have my very own reality TV show on national television, although maybe a more realistic dream for me is just to have a video blog on Youtube with only a niche target market.
I am a mirror-lover, a "salaminkera." I love those opaque car mirrors. I admire my makeup-free skin in those kinds of mirrors, and when I have makeup on and I see my reflection in the mirror, it's pure love…just like how Narcissus fell in love with his own reflection in the water in the Greek myth.
I am not so proud of the fact that I liked skipping classes in school, and work. Another narcissistic tendency. A bad girl move.
The first time some people meet me, I manage to charm them just by being myself. I make them laugh, and I make them think. My lustrous raven black hair and my porcelain skin helps. I am used to random strangers, mostly women, who compliment my poreless skin or my straight black hair. But I know it's more than my good looks.
I accept compliments with a "thank you." I am not the typical girl who is "pa-humble" or someone who would mute the compliment. My fair skin is due to the sun-block I use every single day, except on rare days when I wear makeup. My straight black hair is due to using local shampoos, and only local shampoos. It's not easy to ignore all these hair treatment advertisements when I pass by salons. I go to the salon only when I need a haircut. I only have a few clothes, and most of these are what you call "norm-core." Despite my low-maintenance effort in my physical appearance, I reap a lot of compliments. For me, that makes the compliments so much sweeter.
Once, a new friend told me that for her I look like a fair-skinned Mercedes Cabral because of my facial features, especially because like Mercedes, I also have deep-set eyes and a bulbous nose. Being fan of world cinema, I have seen a lot of art films starring the "Indie Princess of Philippine Cinema." My reaction to my new friend? I said a high-pitched, "Naks, hah! Kaloka, pero thank you!"
My close friend Gigi once told me, "The problem with you sometimes, Erin, is that you are unaware of your beauty. That guy was already making "pa-cute" and you were so oblivious." Gigi was with me that time when a guy flirted with me unabashedly. Thing is, I do not see that specific guy in a romantic light.
I did not put a lot of effort into my looks because I chose to nurture the sexiest part of my body – my brain. I nurtured my brain through reading a lot of physical books and tomes. I also chose to practice my entrepreneurial skills in the last decade. I am also proudly street-smart.
I like to think of myself as someone who has a high self-esteem but also humble. I am funny. I will make it sure that our conversations flow based on what you know. I will let you dazzle me with your wealth of experience. I am capabale of making you feel important and valued, whether you are a friend or acquaintance.
My mother played a big part in my self-confidence. When I was in college, I have an older female schoolmate who is also a Chinese-Filipina. She told me that I am still so pretty even if my face is flat. I recounted this story to my mom. My mom has seen the girl, and she told me with conviction, "Don't believe her. Your face is not flat. She is just envious of you."
I know that I am a self-centered, entitled 30 year-old woman who has a lot of flaws, but I LOVE myself all the same.
I do have painful feelings about myself too, just like any other person. There is a part of me who does not want to grow up and be accountable for my actions.
I know the risk of being an exposed narcissist. There is a possibility of rejection, especially from envious people. What sets me apart from other narcissists? Let me count the ways.
I am a good listener who does not judge.
I can talk endlessly about myself, but first I let the person I am talking to talk about him or her.
I don't impose my beliefs on others. I despise being pressured.
I do not project a "perfect life," because my life isn't.
I only have a few friends, but I am proud to say that these few friends are my true friends.
I do not devalue people. I do not expect people to worship me.
I do not use other people to fill the void. I use myself to fill the void through activities like having regular dates…with myself. Yes, I have dates with myself.
I am tolerant of differences. I do not have any problem with you if don't buy into my views. We are all entitled to our opinions.
For other marcissists, the problem is usually "you" or the "other" and never "themselves." In my case, I am critical of myself and I know that there is a lot to improve about me. If the problem is "me" then I will apologize and accept it.
I am preoccupied of fantasies of personal success…and true love. I want my true love to stroke my ego and caress my soul.
I would still want hugs, and lots of affection.. and I want to be adored. I am still in love with the idea that one day I will find someone who will love me unconditionally and ignore my narcissistic tendencies and my other shortcomings.
I want my guy to treat me like a queen. I want him to completely adore and admire me, but I will have the utmost concern for his needs. I will see him as my king.
I hope to grow out of my narcissistic phase, if this is just a phase.