Erin Series-Facebook: Ruining Relationships Since 2004 Back
By Erin • January 09, 2017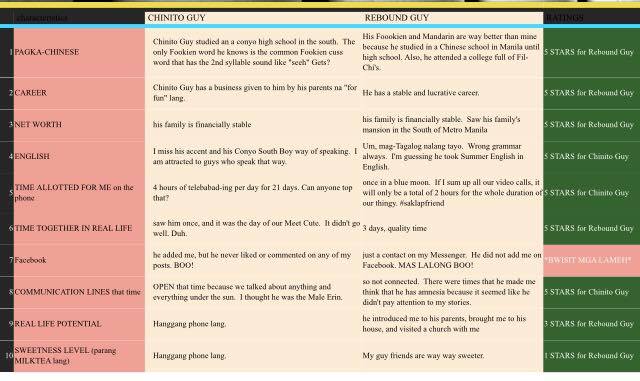 ERIN SERIES - FACEBOOK: RUINING RELATIONSHIPS SINCE 2004
I want to share my own experience with you, my dear Erin followers, on this. Guys and girls, listen up, and please listen carefully.
A GUY SHOULD WANT TO CLAIM YOU AND SHOW YOU OFF TO THE WORLD.
In my last post in December, I mentioned a new character whom I will refer to as "Rebound Guy."
He's a Fil-Chi who is financially stable, and has a good career. He lives in the south in an abode I would describe as "pang-telenovela." His family's house is a huge one, and looks like a Senyorito's house. Yeah, well, he is a Senyorito naman talaga.
He's my Rebound Guy because sinalo niya ako a month after Chinito Guy blocked me from his life. I am guilty of making Rebound Guy my Chinito Guy Part 2. Their differences are so glaring that I made a Pro's and Con's table
(INSERT TABLE)
In real life, the more feasible choice would be Rebound Guy. He's Chinese, studied in a Chinese school, and has better knowledge of Mandarin and Fookien that made me ashamed that I am pure Chinese. #hwanagong
Also, Rebound Guy and I had more real-life interaction.
My friend Achi Gigi asks me why I keep on comparing Chinito Guy and Rebound Guy. I told her point-blank, "Rebound Guy is not on my Facebook list. That says a lot on why I can't trust him." Achi Gigi retorted, "Chinito Guy was on your Facebook dati, pero he blocked you naman." (Refer to my "Un-block My Heart" blog post).
On our first date, Rebound Guy told me casually, "Add mo naman ako sa Facebook."
I told him, "Ikaw mag-add sa akin. I don't add people. They add me."
The Facebook invitation from him never came.
I won't beat around the bush here. If a guy I am dating refuses to add me to Instagram or Facebook, then I'm NOT dating him. I know it's a tad extreme.
Hashtag: GalawangErin
For me, that really causes mistrust. I can't shake the feeling that the guy is hiding something from me.
I think that I am not the jealous type. But I see Facebook as a tool of indicating a guy's like or his love for me.
I am really not an expert on relationships. I've never had one myself. But here's a lowdown of what I think he's up to (by him, I mean guys and girls who won't add you in Facebook kahit na gaano pa sila mag-SWEETTALK PALABOK):


He wants to look single on Facebook to the world, so he could continuously add girls to hit on, and flirt with


He has something to hide. Maybe it's a "I will wait for you" comment on a real-life female friend that he has.


He is involved with another woman, or other women


Caucasian Man-Child was also not in my Facebook list because he is hiding something. That was a traumatic experience for me talaga.
I would like to reiterate:
A GUY SHOULD WANT TO CLAIM YOU AND SHOW YOU OFF TO THE WORLD.
I know, I sound so extreme again. Sorry naman!
I'm too pretty to be hidden. Cue in "hair flip."